Let us ease your mind that PaddleAway.today have taken precautions and have adjusted our lessons and SUPkids Summer Camps according to the Covid-19 rules and regulations. We will adjust accordingly when new information is provided about these rules and regulations. Our equipment will be sanitized before and right after the lessons and camps, and social distancing rules will be applied.
It all started in 2018 after we moved to Ghost Lake. When you're on the water frequently you get to know people… And water sports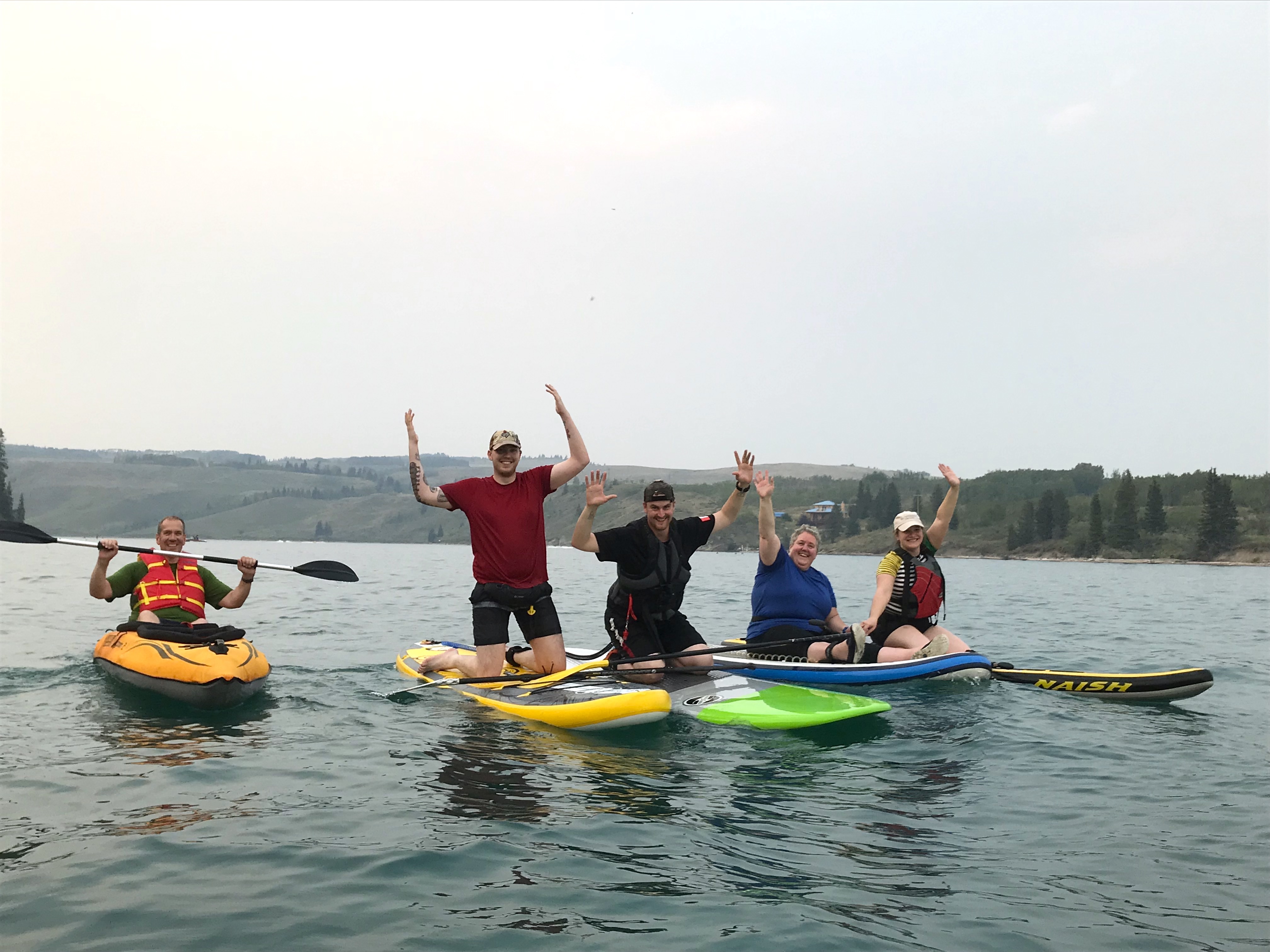 lovers are overall a very friendly bunch and always ready for a chat, share a laugh and inviting you into their aquatic family so to speak.
Paddle boarders, kayakers and participants of our programs asked me if there was an opportunity to paddle with others since not everyone likes to paddle by themselves. Paddling with a buddy is always recommended by us anyway. At the beginning of the 2018 season, we organized a Social Paddle morning. Every Saturday at 9am, if the weather co-operated, local residents and a couple of non-residents got together for some paddle time. This year we moved the day and time to Wednesday evening which for a lot of us is a more convenient day of the week.
Byword to mouth, the group is growing and we receive emails on an almost daily basis from people new to paddling, from paddleboarders and kayakers from the community and outside of the community.
We love to share our love of paddling with everyone and are stoked if you want to join us. This is not a lesson nor a program that we run through PaddleAway.today. This is organized by us, a couple of paddlers who love to paddle with other paddlers. Whether you're a paddle boarder, kayaker or paddle a canoe. No age restriction and yes, you can bring your dog… or cat if you do have one that likes water! 😉
You can contact us if you like more information or you can just come to Ghost Lake on Wednesday evenings during the summer season. We look forward to meeting you and paddle together.