Help us help others
On a daily basis, we're getting informed and educated about the incurable amounts of waste being dumped into our oceans and waterways. Action is being taken and obviously, more need to be done to clean up our waters and protect the species who call it 'home'.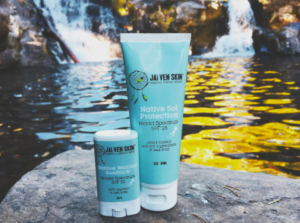 But what about a product we use on a daily basis? Especially during this time of year. With summer around the corner, we all need to use sunscreen. In fact, we should use it year-round.
Regular sunscreen contains chemicals. Not all brands use the same chemicals but they all do contain them. When you swim with sunscreen on, chemicals like oxybenzone can seep into the water, where they're absorbed by corals. These substances contain nanoparticles that can disrupt coral's reproduction and growth cycles. With the corals deteriorating, many species who live in the reefs lose their home and some aquatic animals are now close to being extinct.
Even if you don't swim after applying sunscreen, it can go down drains when you shower. (Read more here)
JaiVen Skin developed a line of skin products that is organic, native and urban. The certified organic ingredients are free of artificial chemicals and synthetic preservatives. The addition of homeopathy to the formulas delivers a revolutionary and groundbreaking product that is safe and effective for our health, skin, and our delicate planets eco-systems.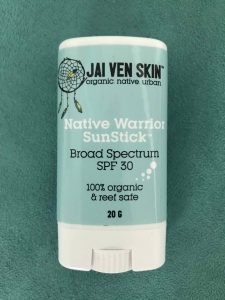 The team at PaddleAway.today are using JaiVenSkin sunscreen. The handy little stick is easy to put in a small purse, a sports bag or even in a dry bag when paddling. It doesn't take up a lot of space, you always have it with you which is especially handy when you're on the water where sunburn happens before you know it and it is easy to use for your face, hands, and arms.
If you're interested in learning more about this unique product, visit www.jaivenskin.com.
If you like to order any of the products through JaiVenSkin, use the following code and receive 10% discount: ASTRID10.
If you like to order through PaddleAway.today and donate 10% to Ocean Ambassadors Canada, order here.
Let's all do our part to keep our waters free of chemicals!