QUALITY TIME WHILE LEARNING TO PADDLE BOARD TOGETHER!
It was an awesome day
We all had such a wonderful day
You ladies are wonderful people
Your knowledge and instruction was awesome
Your Patience wonderful
Your care for safety wonderful
Have a wonderful weekend
Hugs
Hope to see u again
Lisa
Calgary, AB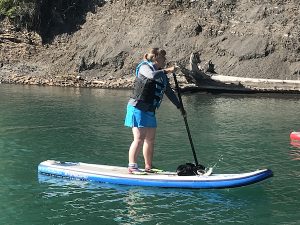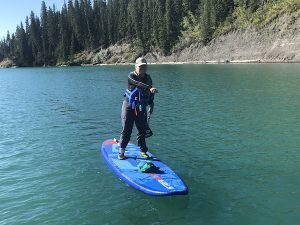 ---
MOTHER AND DAUGHTER LEARNING TO PADDLE BOARD!
Thank you so much for a fun evening . We have learned so much from your lessons and appreciate your patience .  We hope to see you both soon.
PS.  Thanks for the awesome photos.
Susan
Cochrane, AB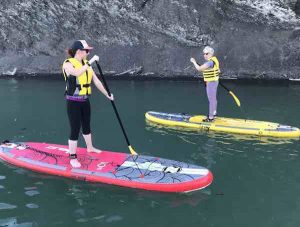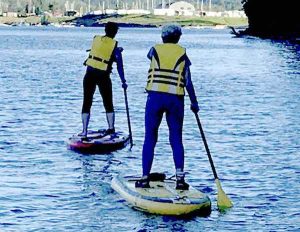 ---
A WELL RUN SUPKIDS SUMMER CAMP
Thank you, Ellen and Astrid, for a well-run SUPKID summer camp. Rain or Shine, the children thoroughly enjoyed every moment. There was plenty of activities both on and offshore which refined their paddling skills and newfound awareness of environmental sustainability. Safety and technical skills were at the forefront and your patience and care ensured plenty of progress.
 A. Clarke, SUP parent 😊
Calgary, AB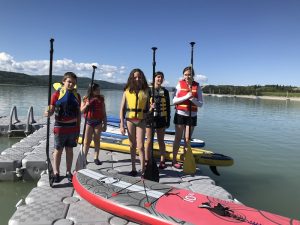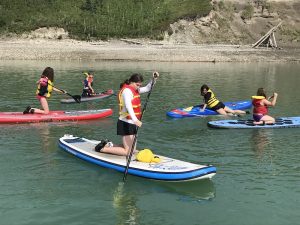 WE HAD A BLAST!
Hi Astrid & Ellen!
Thanks so much for today teaching me and my sister! We had a blast and I've already mentioned you to a few of my friends for them to try it out.
I would love if you could pass on any images of today so we have proof we stood up on the paddle boards haha
Thanks again!
Christie
Cochrane, AB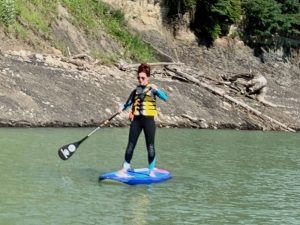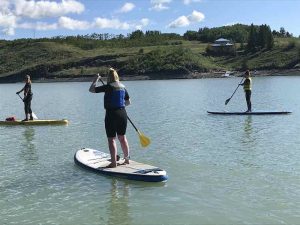 ---
WE'VE HAD SO MUCH FUN!
Hi!
It's Angela Kootenay from Friday's morning lesson 🙂 thank you again it was so much fun! I was hoping you could send me some pictures so I could show my kids. As well as some information of places in Edmonton you could suggest. My oldest is very interested in starting as well.
Thank you again and was great to meet you!!
Angela
Edmonton, AB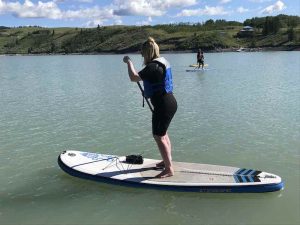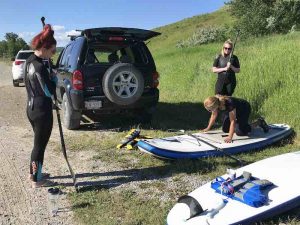 ---
WHAT A DIFFERENCE TECHNIQUE MAKES
Who knew that technique makes such a difference! I've spent a lot of time on top of a SUP, but never had a lesson. Ellen took the time to walk me through the various techniques and I was amazed at how it transformed my SUPing experience.It turns out my natural tendencies made my back hurt and I would turn home sooner than I'd like. Thanks to Ellen's instruction I'm easily paddling twice the distance with zero back issues, as well as turning and moving with way more efficiency. I would recommend everyone take a lesson – even if you're already comfortable on top of a board.
Colleen J.
Calgary, AB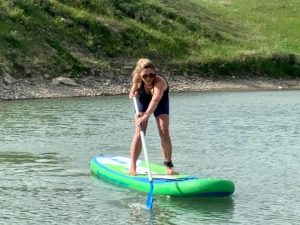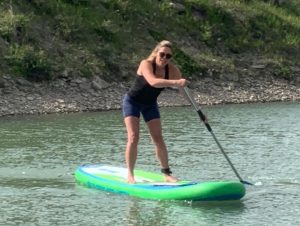 ---
EASY TO BOOK AND GREAT COMMUNICATION
I did a lesson with Astrid and it was fantastic. It was easy to book and communication was great to the day of the lesson. Astrid was a great trainer and covered off everything, was patient and was very conscious of the weather. I would highly recommend doing a lesson with PaddleAway.
Melissa M.
Cochrane, AB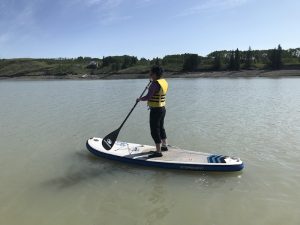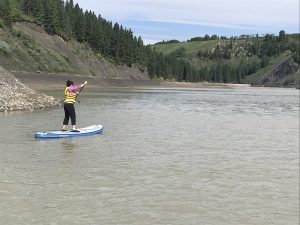 ---
A WONDERFUL EXPERIENCE
I had a wonderful experience with Paddle Away! It's so easy to book online, great communication and patient instructors. I learned so much and highly recommend to others!
Amy F.
Cochrane, AB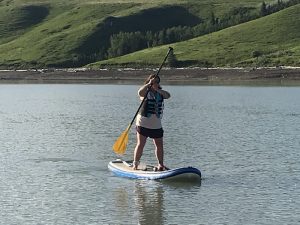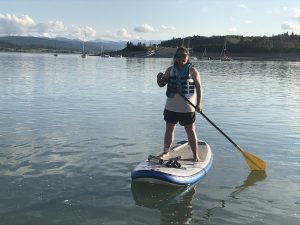 ---
I'M NOW HOOKED TO SUP
I have been wanting to try SUP for 2 years, I finally booked in with paddle away today and I'm hooked! Astrid and Ellen were incredible instructors, they gave me so much valuable information during my lesson and were so much fun to chat with. They are very skilled, and knowledgeable instructors that i cannot recommend enough. I can't wait to get out with them again during a social paddle night. Thank you so much ladies for a truly great experience!!!
Katie H.
Cochrane, AB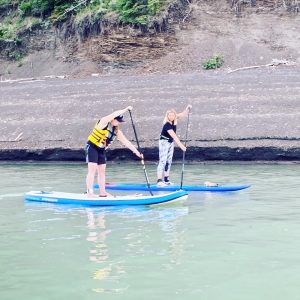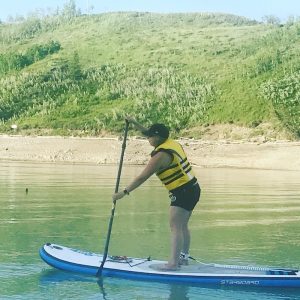 ---
A GREAT WAY TO GET IN SHAPE
Thank-you Astrid for giving me the knowledge to get me started on my Paddle Board.
I'm in late 50's and I wanted to do something that was outdoorsy and that was fun, and get me in shape. I love the water and thought Paddling would be awesome. So I bought a board. Then wanted to know how to Paddling Board. I knew nothing about it.
I contacted Astrid with Paddle Away Today. She was very helpful and knowledgeable, showing me how to get my board pumped up, as I bought a inflatable. Great safety tips and the gear you should have on your board and how to get up standing on the board.
I strongly recommend getting a lesson from Astrid or Ellen to get you started, or even to advance your skills and technique.
I am also going to take some more lessons to learn about the techniques of Paddling and advance my skills.
Its a great way to keep in shape!
The beautiful scenery at Ghost Lake Is Amazing!! Love it!
Donna P.
Cochrane, AB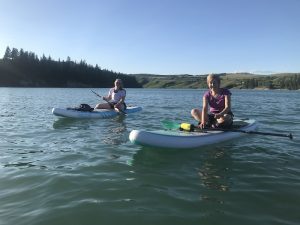 What a great lesson! Both instructors where approachable, encouraging and most of all showed great patience. Thank you for a fun lesson!!!
Michaela H.
Calgary, AB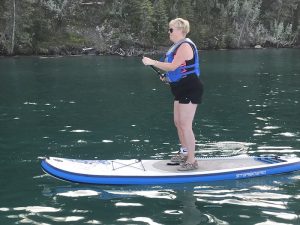 ---
MORE COMFORTABLE AND CONFIDENT
Kaitlynn W.
Cochrane, AB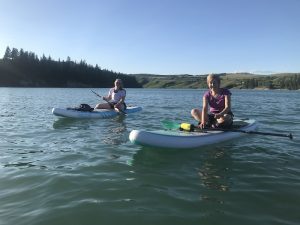 ---
PADDLING IS NOW A FAMILY ACTIVITY
Lina C.
Calgary, AB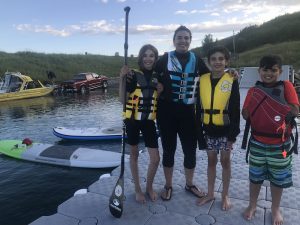 ---
NOTHING FEELS BETTER THAN PADDLING, PHYSICALLY AND MENTALLY
Needless to say that when I discovered paddle boarding I had found my niche! Nothing feels better to me than paddling on a beautiful lake, physically and mentally, as this is such a great workout and yet so incredibly relaxing!
I recently bought my own board and I love this so much, I can hardly wait for my next lesson. A heartfelt Thank You to my fantastic knowledgeable instructors Astrid and Ellen, who are slowly turning me from a novice into an experienced SUP-er!
See you ladies soon!
Marianne F.
Rocky View, AB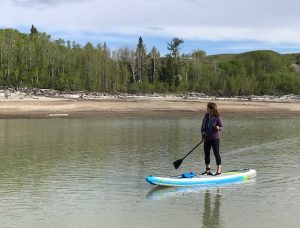 .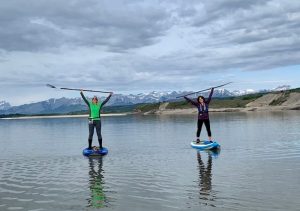 ---
Astrid is an excellent coach and mentor on the skills of paddling. She understands the waterways and is very conscious of the weather. Astrid is skilled, knowledgeable and very kind in her approach. You can rest assured you will be well taken care of during your outing and challenged to the level you are comfortable with.
The equipment is well suited for the beginner and those wanting more adventure.
Your paddling experience will be safe and rewarding.
Ghost lake and surrounding area are gorgeous. A gem spot especially in the evening – the water heading towards the river is calm and peaceful.
I highly recommend PaddleAway.today's service! It is a fantastic outing.
Joanne Z.
Calgary, AB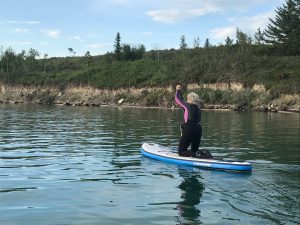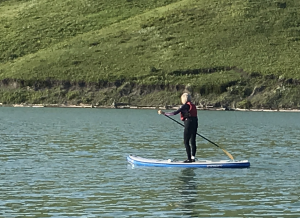 ---
Thank you, Astrid and team!
It was a pleasure and we truly had fun!
We'll definitely recommend you, and we'll probably be back!
I will keep you in mind when I'm ready to purchase a board – it helps with a pro's advice!
Again, thank you so much!
Ana & son Aden
Calgary, AB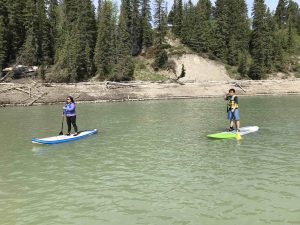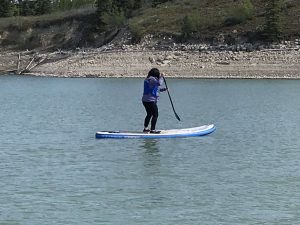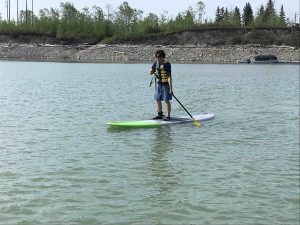 ---
Astrid and Ellen are great instructors. They explained all the basics and safety of paddle boarding in great detail, listen to their students' questions and patiently answered all of them before taking us out on the water. Once on the water, they stayed close to ensure we could handle the paddling and the board sufficiently. And while having fun trying to get everything under control both kept providing encouraging feedback and suggestions.
All in all, it was a very fun and enjoyable introduction to paddle boarding. I will certainly go back for another lesson and more feedback to get better at it.
Thanks Astrid and Ellen for a fun evening and enjoyable trip out on the water.
Elka L. & family
Calgary, AB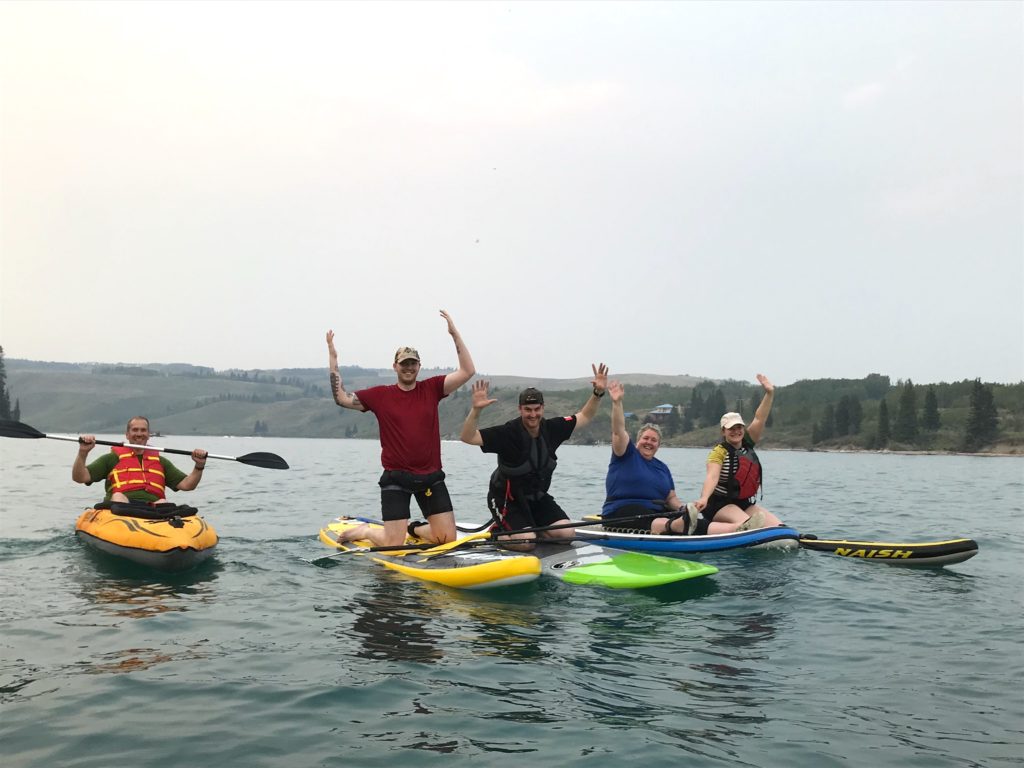 We had two amazing girls joining us for a one day SUPkids summer camp. They not only learned how to paddle board but also about safety in and around water, what affect plastic has on our environment and specifically our water ways and how to keep our waters clean. They clearly had a lot of fun and asked if they can come back for another summer camp. We're looking forward to it!
I had my very first standup paddle board (SUP) lesson yesterday – and loved it! A big thank you to Astrid at Paddleawaytoday – an amazing, patient, and most generous instructor! More lessons and time on the water to come…
Thank you!
Anita K.
Bragg Creek, AB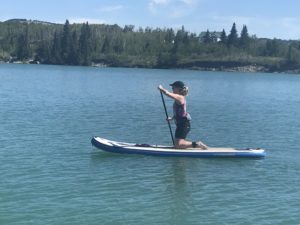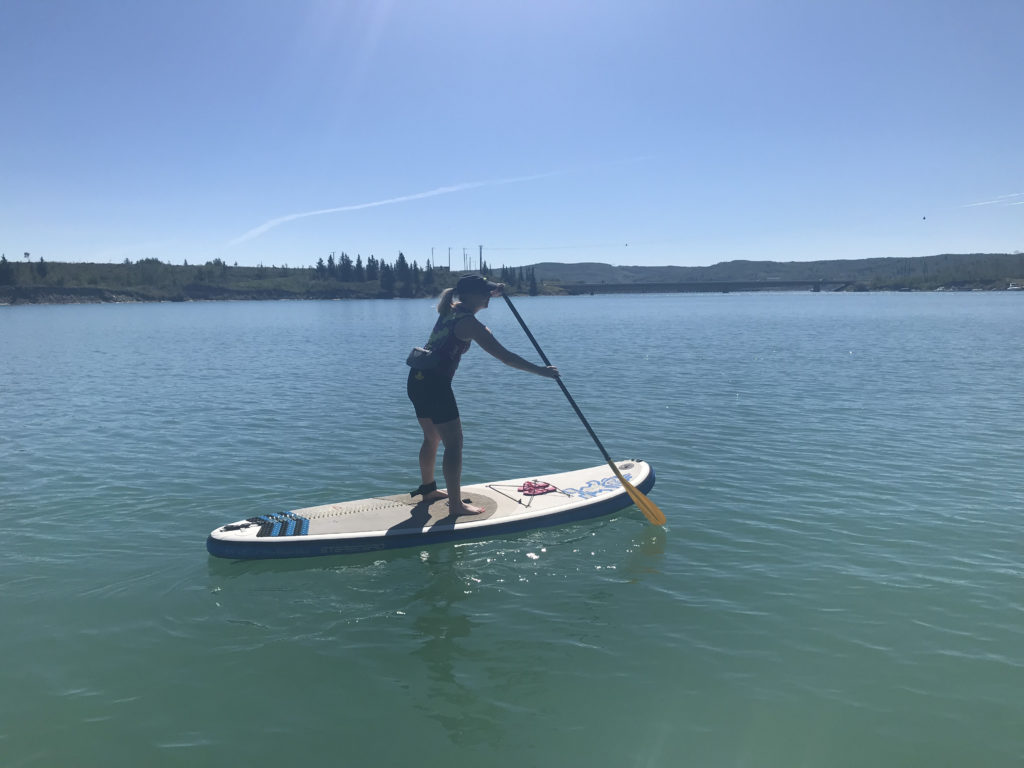 Hi Astrid,
I do want to thank You. That was an awesome experience! I have to tell you that I am afraid of water and all my water activities is an effort to overcome this fear. You did great. Can I come back this Saturday?

Regards,
Kira
Calgary, AB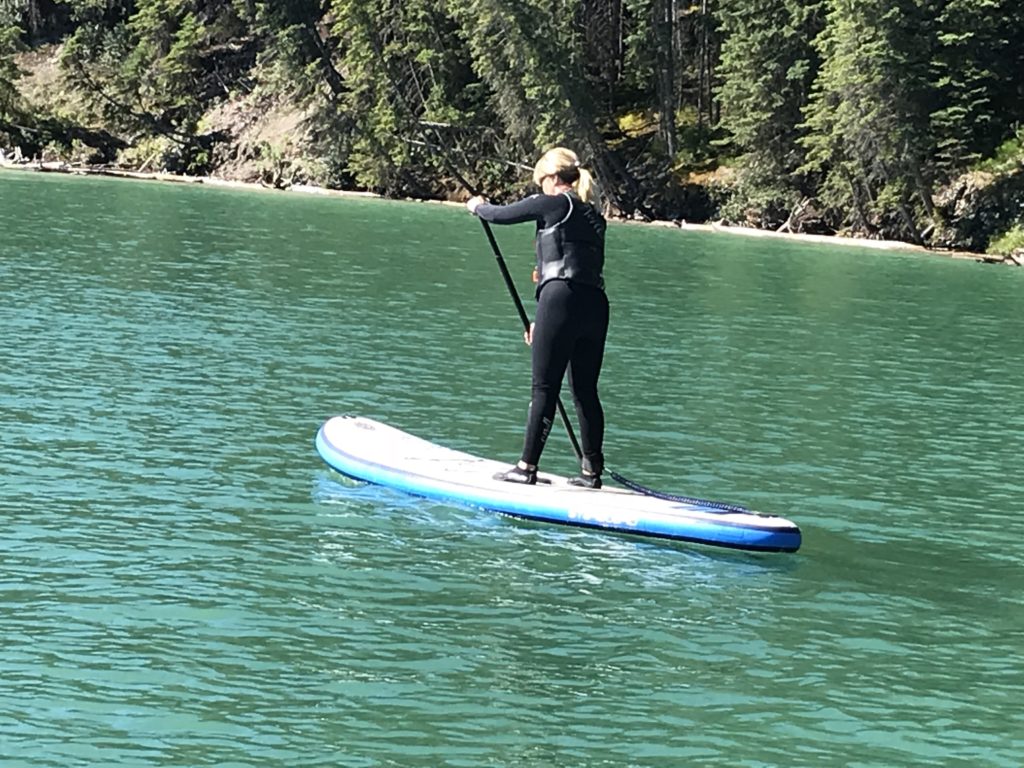 Hi Astrid & Ellen,
Just wanted to thank you both for teaching us this morning. We truly enjoyed it. I will try mention ur business to friends and family who might want to come out and paddle board.
Again thanks !
Dheny & Joy
Calgary, AB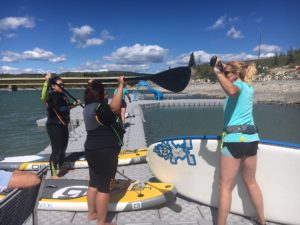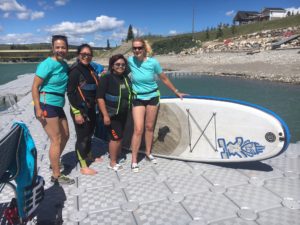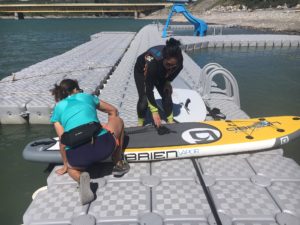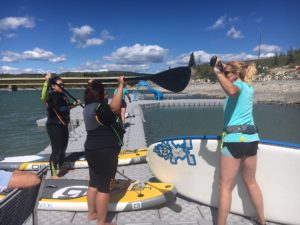 Hi Astrid & Ellen,
Thank you so much for the awesome first experience on the paddle boards!
It was a blast and I can't wait to get out there again!
Maybe not in a thick black wet suit?.  I really appreciated sharing your safety tips, skills and knowledge!
Hope to see you Saturday?☀
Cheers to calm waters,
Sherry
Rocky View, AB